Over the years of practicing Feng Shui, I have never seen a space that wasn't in need of metal to create a supportive energy flow. Metal holds the message of focus, strength and clarity. There are many different ways to bring metal into your surroundings. Let's look at how you can transform your space today!
Materials
Placing anything made of metal, iron, steel or copper such as furniture, appliances, lamps, décor, etc., is a great way to incorporate metal into your environment.  Wind chimes are also a popular way to boost the metal around you.
Colors
Do you have white walls in your home? If so, the metal element is already added to your space! The metal colors are white, gold, silver, copper, grey and pastels. Accessories are always a fun way to incorporate colors.  You can use grey curtains, pastel rugs, golden pillows, silver table runners, etc. The accessories list could go on and on – so have fun experimenting with metal colors in your space!
Shape
Metal is associated with the circle and oval shape. If you've always wanted an oval coffee table – now is the time to get it! Also, look for pillows, rugs, blankets, and décor with patterns that incorporate ovals or circles. You can get very creative bringing the shapes of metal into your home!
Artwork
Images of metal bridges, metal statue/s as well as abstract artwork displaying ovals or circles could be a great addition to a space. Artwork displaying the metal colors would be another amazing way to activate the metal in your surroundings. Having artwork in metal frames is spot on!
Let's search for the metal element in this living room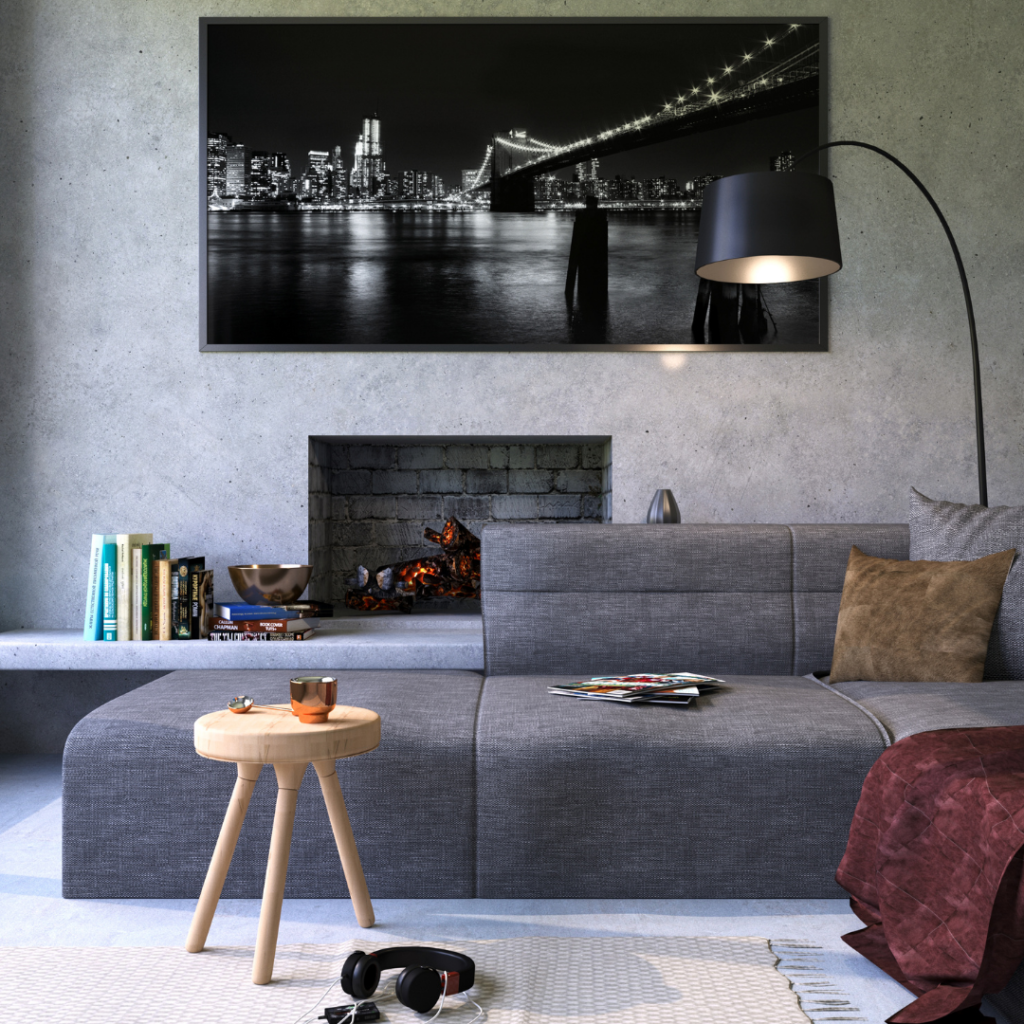 This living room space features quite a few metal elements. First, your eyes are drawn to the artwork depicting a metal bridge which not only brings in the metal element but the bridge also represents coming together and/or bridging the gap. In addition, you can't miss the metal colors in this space by looking at the walls, sofa, rug and decor. The floor lamp represents the metal shape as does the round coffee table. Last but not least the material metal is found in the floor lamp and golden bowls displayed to the right side of the books and on the coffee table. Voila! This space has successfully incorporated the metal element!
I think now you get a pretty good idea of what is needed to bring the metal element into your home. Get creative and evaluate your space!
Want to learn more about the other Feng Shui elements and how to implement them into your space? Make sure to sign-up for our newsletter if you haven't done so already, and you will receive the next read about the water element directly emailed to your mailbox!
Want to learn more about the other Feng Shui elements? Read up on the element wood here.