Sage & Chime Space Clearing Kit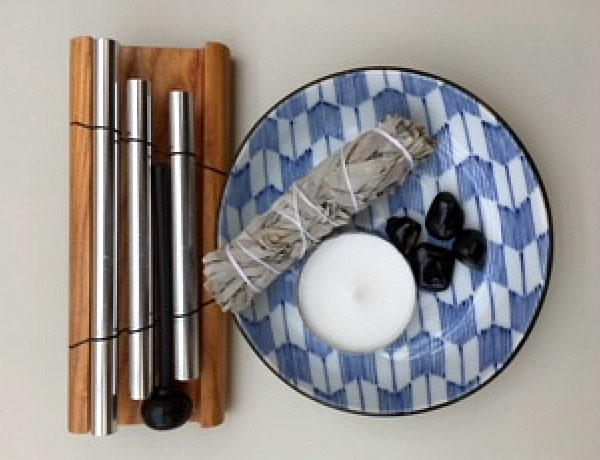 • 1 California White Sage smudge stick (4 Inch)
• 1 Trio Zenergy Chime
• 1 Smudge bowl
• 4 Tourmaline stones (20-25mm)
• 1 Candle
• Written instruction
$49
Includes wrapping and shipping within the USA
<form target="paypal" action="https://www.paypal.com/cgi-bin/webscr" method="post"><!-- [et_pb_line_break_holder] --><input type="hidden" name="cmd" value="_s-xclick"><!-- [et_pb_line_break_holder] --><input type="hidden" name="hosted_button_id" value="D96NAJR2QQ5MY"><!-- [et_pb_line_break_holder] --><input type="image" src="https://www.paypalobjects.com/en_US/i/btn/btn_cart_LG.gif" border="0" name="submit" alt="PayPal - The safer, easier way to pay online!"><!-- [et_pb_line_break_holder] --><img alt="" border="0" src="https://www.paypalobjects.com/en_US/i/scr/pixel.gif" width="1" height="1"><!-- [et_pb_line_break_holder] --></form>
California White Sage (Salvia apiana): Is an evergreen perennial and has been used to cleanse the negative energy in any given space.
Black Tourmaline Stone: Is a powerful stone for protection against negative energy. Black Tourmaline is also associated with emotional stability, grounding, health, and it absorbs electromagnetic energy.
Trio Zenergy Chime: This three-tone chime is one of the tools used to perform the space clearing ritual by ringing it throughout the space. The Trio Zenergy Chime can also be used for meditation.
Smudge Bowl: Is necessary to catch any hot cinders when preforming the space clearing ritual. Smudge bowl should be filled with a little sand to prevent overheating the bowl.
Candle: Is lit before starting with the space clearing ritual.
Written Instruction: Explains exactly how to perform the space clearing ritual including how to protect yourself before the ceremony.