Palo Santo Space clearing kit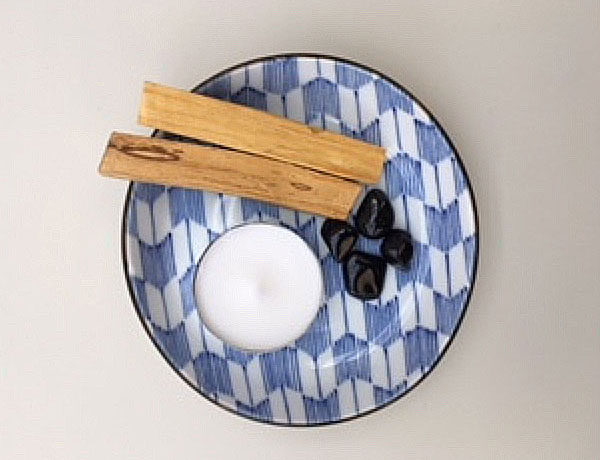 • 2 Palo Santo incense stick
• 1 Smudge bowl
• 4 Tourmaline stones (20-25mm)
• 1 Candle
• Written instruction
$25
Includes wrapping and shipping within the USA
<form target="paypal" action="https://www.paypal.com/cgi-bin/webscr" method="post"><!-- [et_pb_line_break_holder] --><input type="hidden" name="cmd" value="_s-xclick"><!-- [et_pb_line_break_holder] --><input type="hidden" name="hosted_button_id" value="NS28P6GL89K5Y"><!-- [et_pb_line_break_holder] --><input type="image" src="https://www.paypalobjects.com/en_US/i/btn/btn_cart_LG.gif" border="0" name="submit" alt="PayPal - The safer, easier way to pay online!"><!-- [et_pb_line_break_holder] --><img alt="" border="0" src="https://www.paypalobjects.com/en_US/i/scr/pixel.gif" width="1" height="1"><!-- [et_pb_line_break_holder] --></form>
Palo Santo (Holy Wood): Is sacred food which comes from the Palo Santo tree that grows on the coast of South America. Palo Santo is a wonderful tool to use for space clearing, it's benefits also includes physical healings.
Black Tourmaline Stone: Is a powerful stone for protection against negative energy. Black Tourmaline is also associated with emotional stability, grounding, health, and it absorbs electromagnetic energy.
Smudge Bowl: Is necessary to catch any hot cinders when preforming the space clearing ritual. Smudge bowl should be filled with a little sand to prevent overheating the bowl.
Candle: Is lit before starting with the space clearing ritual.
Written Instruction: Explains exactly how to perform the space clearing ritual including how to protect yourself before the ceremony.